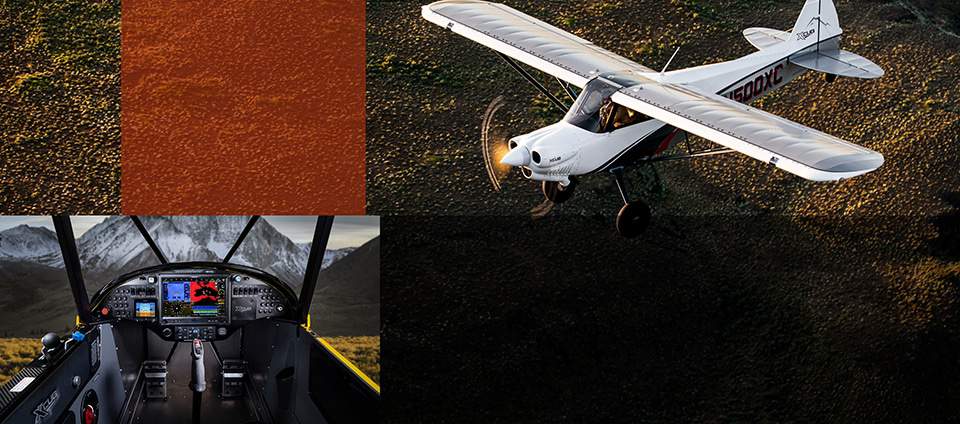 Adventure Multiplied
XCub checks every box on an adventure Pilot's wish list: remarkable STOL performance, generous useful load, class defining speed and cross-country range. Yet XCub surrounds both pilot and passenger with comfort and convenience. The pilot experience at the controls is intuitive and satisfying. Cockpit ergonomics are thoughtfully executed. Control inputs are rewarded with a precisely smooth, tactile feel and superb control harmony.
Configure Your
Design

Class Leading Speed and Range
Near 1,100 lb Useful Load
G Series Ailerons Paired with Push Rod Controls
Multiple Landing Gear Options
Refined Ergonomics
Comfortable Cabin
Manufactured to Latest Part 23 Requirements

Class Leading Speed and Range

To take full advantage of aerodynamic improvements, XCub is outfitted with a constant-speed composite prop that is both extraordinarily lightweight and efficient. Aerodynamic changes coupled with the new propeller add up to significant performance increases. With a top speed of 153 miles per hour and a cruise of 145 miles per hour XCub truly redefines the performance envelope for this family of aircraft.

Cruising at 135 mph with a fuel capacity of 49 gallons range is extended to 800 miles. Pilots who want to go even further can throttle back to an economy cruise of 120 mph and stretch operational range to over 1,000 miles. This makes XCub an extraordinarily versatile aircraft.

Near 1,100 lb Useful Load

XCub is built on a wholly original fuselage design. The CNC milled 4130 chromoly steel frame meets the latest FAA Part 23 certification standards for 2,300 lb gross weight aircraft. XCub's useful load is as high as 1,084 lbs. Today's Part 23 certification requirements ensure this is the strongest Cub ever produced.

G Series Ailerons Paired with Push Rod Controls

The G-Series ailerons improve handling in all aspects of the flight envelope. The roll authority of the XCub has been improved by redesigning the aileron airfoil and relocating the hinge point. Innovative push-rod aileron controls directly affect roll, replacing cables and pulleys. Cable stretch is eliminated, and pilots experience a smooth, tactile feel. CubCrafters' G-Series ailerons deliver markedly lighter and crisper roll response compared to legacy aircraft. Roll rate is increased and control harmony is even better. The new G Series controls paired with push rod ailerons is truly something that has to be experienced. Following a river, carving turns at tree top level will never be the same again.

Multiple Gear Options

XCub is a flexible platform which adventure pilots may configure to fulfill different missions. The legacy bungee gear harks to the classic Super Cub. Our new, aerodynamic aluminum spring gear adds up to 14 mph at 75% power cruise, and yields superior damping and control on unimproved landing areas.

XCub's 2,300-pound gross weight capability makes this a perfect float platform. Both straight floats and amphibious floats from Wipaire are available.

Refined Ergonomics

XCub is designed to facilitate a variety of pilots and a multitude of missions. High seat positioning, low side windows, vast skylight, low-profile instrument panel and tapered cowl assure a panoramic view - a rare attribute in a taildragger. The stick is comfortably and precisely positioned. The seats feature memory foam cushions to assure comfort and circulation for long cross-country flights. The instrument panel flows intuitively with engine controls on the left and avionics/lighting on the right.

Comfortable Cabin

Veteran Cub drivers will be pleasantly surprised with XCub's updated cabin. The Ahtanum Interior Package offers Scottish leather seats with perforated inserts and contrast stitching. 12 storage areas surround the cabin in ultra-modern carbon fiber side and header panels. Two bottle holders, four USB charging ports and two 12V power outlets are easily accessible. A unique rear seat electronics console holds both phones or tablets. Thoughtfully hidden in the aft baggage area is a locker for headsets.

Designed and Manufactured to Strictest Part 23 Standard to Date

XCub satisfies the latest FAA certification basis for light aircraft: Part 23, Amendment 62. The process lasted six years, generating over 1,400 engineering drawings and 45,000 pages of compliance reports. More than 2,700 combined ground & flight conditions were satisfied. XCub meets the requirements of more than 1,500 FAA Regulations. XCub is simply the safest, most extensively tested adventure airplane ever.
XCub Origin
We dreamed of a Cub that could reach farther, go faster and carry more than legacy technology would allow. Knowing modern materials and computer-aided engineering gave us a good shot at making these lofty goals a reality, we set off on what became a 6 year journey. Along the way we encountered many hurdles, one of which is the strictest and most challenging iteration of Part 23 certification to date. Satisfying all of today's Part 23 requirements ensured this would be the safest and strongest Cub ever produced. We also made many discoveries along the way, one of which is a new aileron design and push rod control that has proved to be greater than the sum of its parts. Each one of these changes is superb by themselves, but together they are something pilots have to experience. XCub has a laundry list of breakthroughs that translate into specs appearing to have been cooked up in the marketing office. We understand the skepticism. All we can say is, come fly one and see for yourself.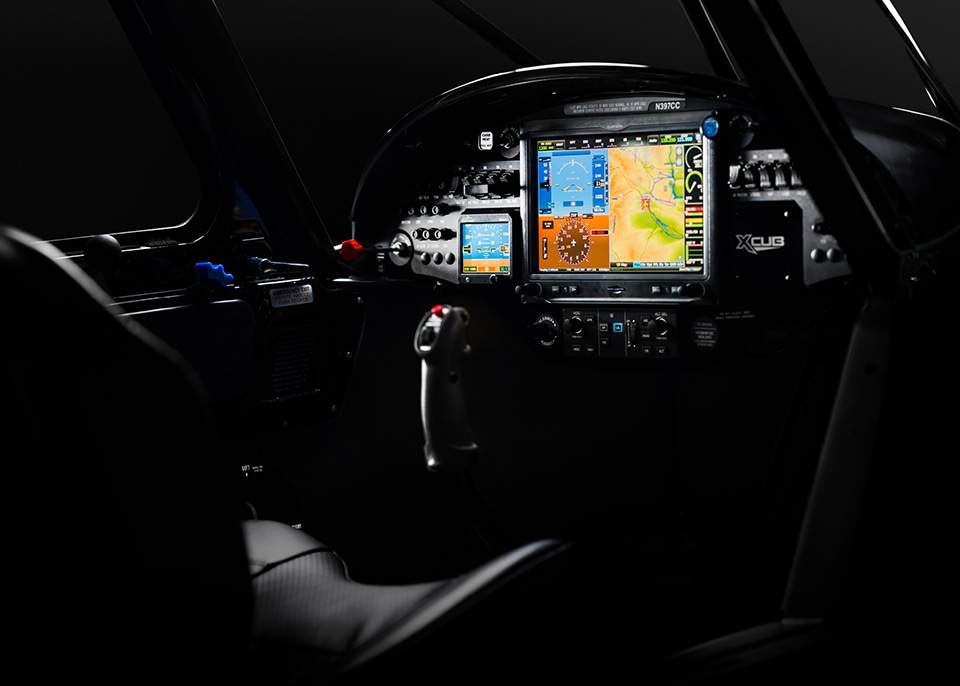 Glass and Autopilot
In addition to the well-equipped standard instrument panel, CubCrafters has added a powerful, fully-integrated EFIS avionics suite as an option. The new panel is centered on Garmin's G3X 10.6-inch flight display and delivers highly-advanced capabilities at an unexpectedly affordable price. The system is configurable for split-screen mode and includes terrain/obstacles alerting, attitude, synthetic vision, full engine monitoring, and much more. Garmin's dual-axis, digital autopilot may also be added.
XCub / NXCub Specifications
Aircraft

Certification

FAA Part 23 or EAB (Builder Assist)

MTOW

Normal: 2,300 lbs
Utility: 1,980 lbs

Type

Single engine land & sea

Crew

2

Landing Gear

Configurable as:

Tailwheel
Nosewheel
Straight Floats
Amphibious Floats

Powerplant

Engine

O-360-C1G (180 horsepower)
CC393i (215 horsepower)

Propeller

Trailblazer constant speed, composite (2 or 3 blade)

Dimensions

Length

23 ft 10 in

Height

8 ft 4 in

Wingspan

34 ft 4 in

Wing Area

174.8 sq ft

Cabin Width

30" @ pilot position

Cabin Height

52" @ pilot position

Cargo Area

26 cu ft

Weights

Empty Weight

1,216 lbs base configuration

Gross Weight

2,300 lbs

Useful Load

1,084 lbs

Cargo Weight

230 lbs
Capacities

Performance

Maximum Speed

160 mph in level flight

Cruise Speed

150 mph at 75% power

Stall Speed

39 mph demonstrated

Rate of Climb

1,500 fpm

Endurance

6+ hrs

Range

800 miles

Takeoff Distance

120 ft demonstrated (NX)

Landing Distance

80 ft demonstrated (NX)

Speeds

Vne

167 mph never exceed redline

Vso

46 mph* stall speed - power off, flaps full

Vs

46 mph* stall speed - flaps up

Vfe

81 mph maximum speed - flaps extended

Vo

99 mph maximum operating maneuvering speed

Vx

59 mph best angle of climb speed

Vy

74 mph best rate of climb speed

* 2,300 lbs gross weight using FAA mandated worst-case conditions
Video
XCub - Introduction
XCub - Overview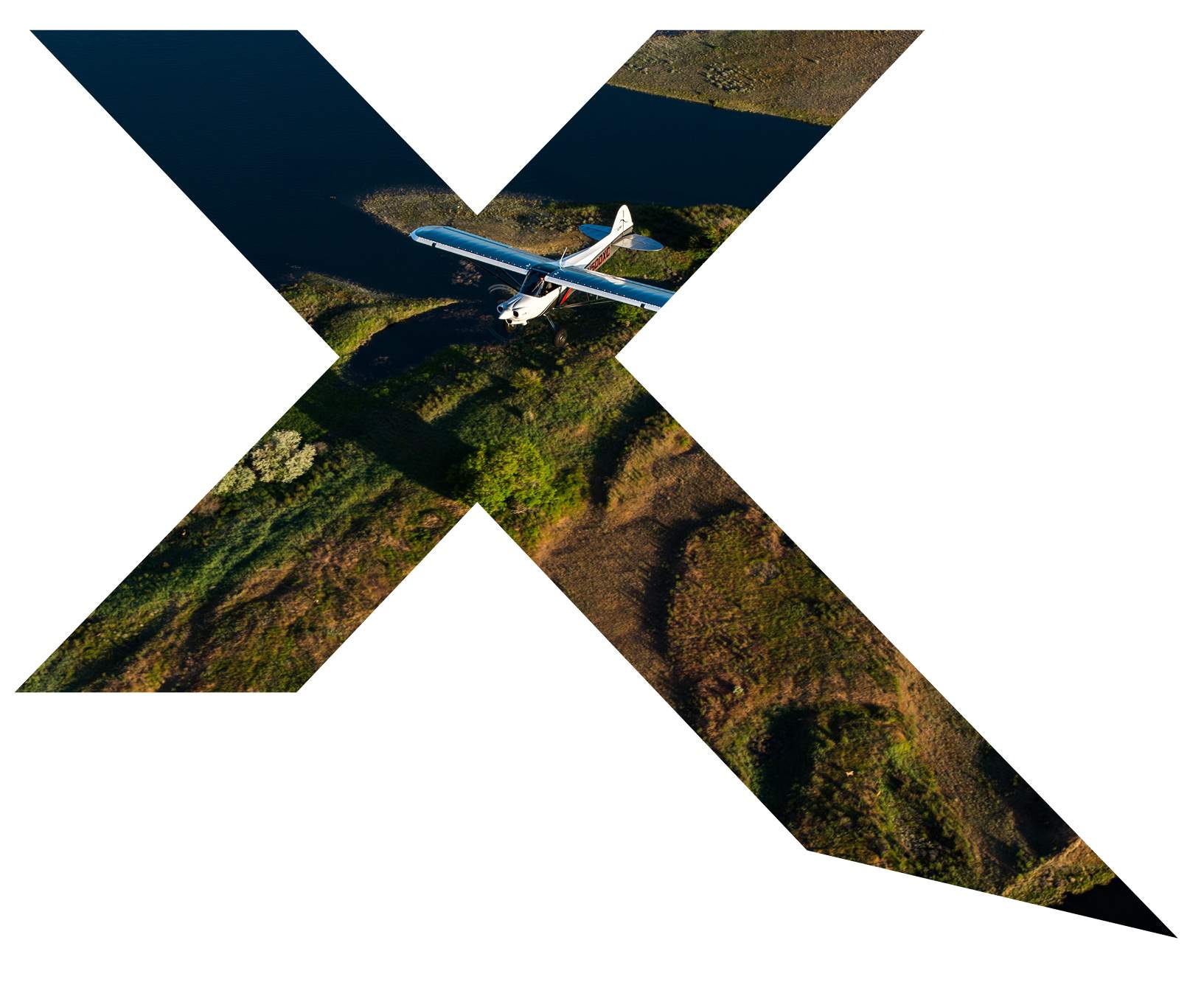 The All-New Master Class of Sport Utility Aircraft
XCub is lighter, faster, stronger and provides a larger payload and greater range than any aircraft in its category. Combined, these attributes fulfill a much wider mission profile. Take a flight in XCub and discover the next generation of adventure aircraft.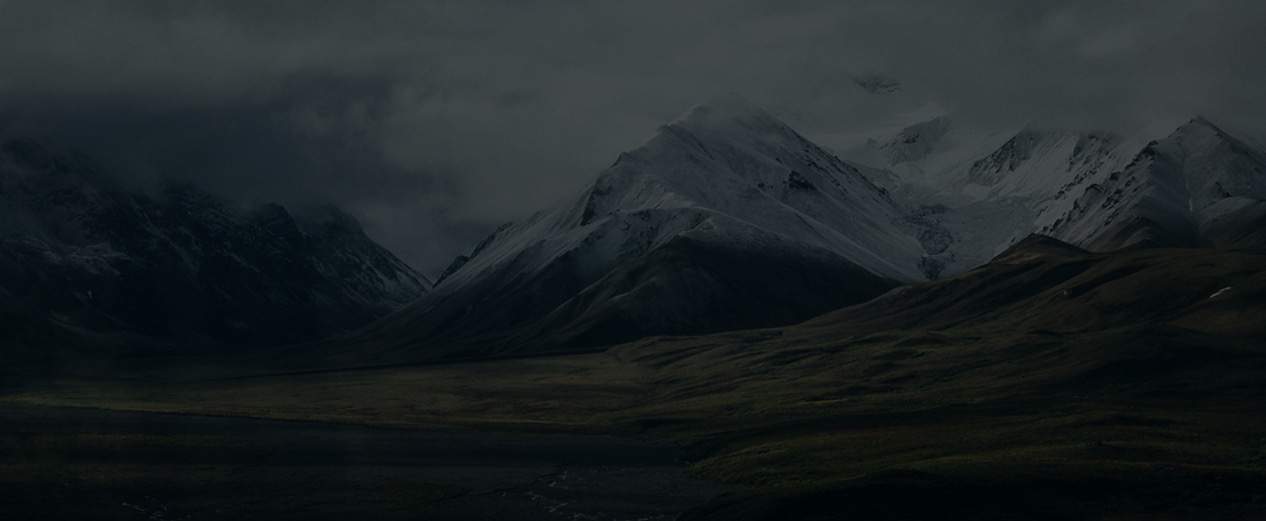 CubCrafters aircraft are sold through Certified Sales Centers. Our factory-selected Cub enthusiasts are ready to help make your buying experience smooth and worry-free.