History
Jim Richmond is one of those fortunate people who have made a successful career of something they love. In Jim's case, it's a deep appreciation of an iconic airplane: The Piper Super Cub. Back in 1980, after a thorough fact-finding trip to Alaska (where the Super Cub is a favorite bush plane), Jim made the decision to sell his home insulation business and switch to rebuilding Super Cubs thus CubCrafters was born.
From the beginning, what distinguished Jim's vision was his ability to recognize the potential performance that he believed had never been fully developed in the Super Cub. An innovative engineer as well as an accomplished Airframe and Power Plant mechanic, Jim was constantly on the lookout for interesting modifications and refinements. This effort led him to developing a community of like-minded enthusiasts by publishing the Super Cub Newsletter and other activities.
Over the next two decades, Jim's ambition evolved, and CubCrafters began building new airplanes - airplanes greatly improved from the original Super Cub. Stronger. Safer. Easier to fly.
In 1997, We expanded the manufacturing facilities adjacent Yakima's McAllister Field Airport. A few years later we introduced our first Type Certified aircraft, the Top Cub. The response from the aviation community was sensational.
More recently, upon creation of the Light Sport Aircraft class, a 100-horsepower Sport Cub and our phenomenal 180 hp Carbon Cub SS were introduced. In 2016 we launched the all new Part 23 Certified XCub pushing the Cub platform even further.
CubCrafters Lineage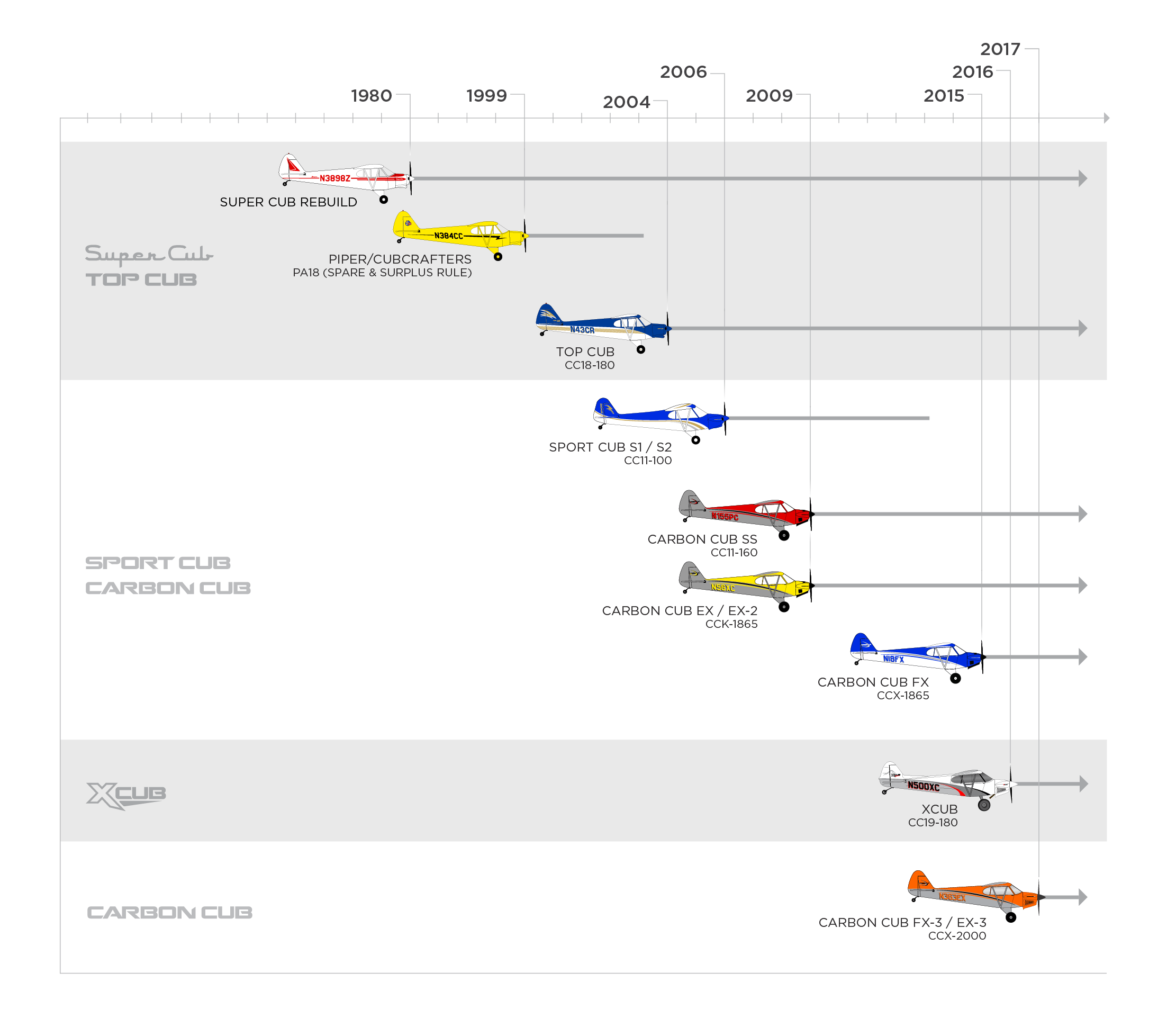 1980
CubCrafters is founded by Jim Richmond to repair and restore Piper Cubs.

1999
Company introduces their first "new" airplane, the Piper/CubCrafters PA18, built under the FAA's Spare & Surplus Rule.

2004
Earning their FAA Part 21 Production Certificate and their first FAA Aircraft Type Certificate, CubCrafters introduces Top Cub: a Part 23 Certified design, based on the Piper Super Cub and the most popular STCs (Supplemental Type Certificates).

2006
Introduction of the Company's first Light Sport Aircraft: Sport Cub is a clean-sheet design that advances the genre of backcountry, tailwheel aircraft.

2009
A lightweight, 180 horsepower engine is added to Sport Cub. Initially badged Super SportCub, it is renamed Carbon Cub SS in 2010.

Along with Carbon Cub SS, a kit version of the aircraft is offered: Carbon Cub EX

2015
An innovative builder assist program is introduced for for the Carbon Cub Kit. Carbon Cub FX represents CubCrafters' most capable backcountry taildragger yet.

2016
XCub is introduced

2017
XCub G3X glass panel is released. Carbon Cub EX-3 and FX-3 are introduced.

2018
XCub is awarded international certifications in Europe (EASA), Japan (JCAB), Canada (TCCA), and Australia (CASA)
Facility
CubCrafters operates in a group of facilities on the edge of McAllister Field Airport in Yakima, Washington. It's an idyllic spot for flying and testing our planes: Big skies, punctuated on the Western horizon by the always snow-capped peaks of the Cascade mountain range. 290 days of sunshine each year. The nearby countryside is dotted with wineries, orchards and rangeland.
Inside our buildings, more than one hundred sixty dedicated and highly skilled people come together to build some of the most innovative and exciting aircraft available. The process is a unique combination of the latest computer-aided design and fabrication with time-tested craftsmanship.
In many ways, this is every flight enthusiast's dream workshop. Spotless. Organized. Ideally configured for the process of building an airplane to the highest levels of precision. Proven principles of lean manufacturing ensure that there is no outdated inventory and that all parts and procedures are under constant scrutiny for possible improvement.
Our entire facility is Part 21 certified by FAA, a requirement to produce Part 23 certified airplanes like Top Cub and XCub. We are the only manufacturer in America building Light Sport Aircraft (LSA) in an FAA Certified facility. It's worth noting that, unlike many manufacturing facilities, our factory houses all departments involved with the design, support and sales of our airplanes. This close proximity results not only in operational efficiencies, but also in a tangible sense of teamwork and shared purpose that is at the very core of our business. It is an indispensable part of what makes CubCrafters' airplanes so special.