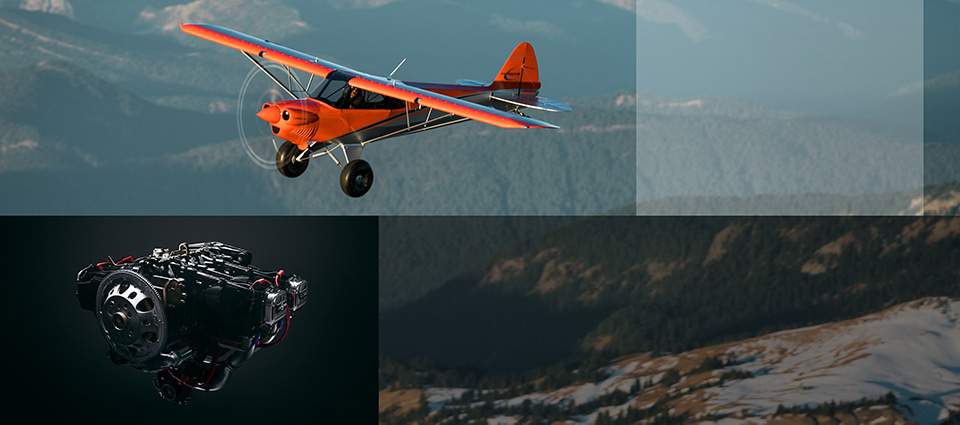 The Process
1st Factory Session

At the factory the builder will spend 5 days working with our technicians and equipment to construct the necessary parts and components for their airplane.

Factory Assembly

The builder returns home while CubCrafters performs a quality inspection of the 1st session's parts. CubCrafters then uses those parts to construct a factory-perfect airplane.

2nd Factory Session

The builder returns for 2 days to complete the final assembly. Afterward, the airplane receives an airworthiness inspection, certification, and two or more factory test flights by CubCrafters test pilots.
1,865 lbs gross weight
CC340 180 HP Engine
Carbureted
Fixed Pitch Prop
Useful Load 883 lbs
Cruise 109 MPH
Range 632 Miles
Take Off Distance 110 Feet
Landing Distance 140 Feet
Configure Your
New
2,000 lbs gross weight
CC363i 186 HP Engine
Fuel Injected
Constant Speed Prop
Useful Load 977 lbs
Cruise 135 MPH
Range 765 Miles
Take Off Distance 90 Feet
Landing Distance 155 Feet
Configure Your
Standard Features

Up to 1,865 lbs (FX-2) or 2,000 lbs (FX-3) Gross Weight
New G Series Ailerons and Slotted Flaps
Long-Range Fuel Tanks
Extended Baggage
3x3 HD Landing Gear
Alaskan Bushwheel Tail Spring and Tailwheel
Light Weight LED Lighting & Strobe Package

Generous Useful Load

Carbon Cub FX is built on a wholly original fuselage design. The CNC milled 4130 chromoly steel frame features robust construction and may be flown at up to 1,865 lbs (FX-2) or 2,000 lbs (FX-3) gross weight, allowing a useful load as high as 833 lbs or 977 lbs respectively. The sophisticated structure is built to be both lightweight and safe.

G Series Ailerons and Slotted Flaps

The G-Series control surfaces improve handling in all aspects of the flight envelope. The roll authority of the Carbon Cub FX has been improved by redesigning the aileron airfoil and relocating the hinge point. CubCrafters' G-Series ailerons deliver markedly lighter and crisper roll response compared to legacy aircraft. Control harmony is even better than the original.

The G-Series flaps are the first truly slotted flaps available from CubCrafters. With the G-Series, the stall speed of the FX with flaps extended is reduced, thus improving the already remarkable low-speed manners of the Carbon Cub. The G-Series flap features repositioned pivot arms that, when the flaps are deployed, lower their location relative to the wing, forcing high pressure air from below the wing over the flaps, helping airflow to remain attached for increased lift.

The G-Series tail feathers feature new adjustable elevator stops and allow greater down elevator trim, providing the pilot with greater trim authority when operating either at the forward or aft limits of the CG envelope. With these improvements, CubCrafters has made an already stellar performer even better.

Long-Range Fuel Tanks

FX is built with the Carbon Cub Long-Range Fuel Tanks as standard equipment. The Long-Range Tanks hold 44 gallons of fuel vs. 25 gallons for the Standard Tanks, affording pilots greater range.

Extended Baggage

The Carbon Cub FX Extended Baggage area provides a full-width repository aft of the reverse dogleg, plus a convenient side-access baggage door. The Extended Baggage area is a full 48% larger at 22.8 cubic feet, compared to 15.3 cubic feet for Standard Baggage, so pilot and passenger can pack enough gear for extended wilderness excursions.

Learn More

3x3 HD Landing Gear

The gear is particularly rugged, built with machined steel axles, to safely support the higher payload that FX can carry. The 3x3 configuration is three inches taller than standard gear, giving even greater prop clearance, and the axle center is moved three inches forward, allowing for even more aggressive braking when a short landing roll is required.

Light Weight Lighting and Strobe Package

FX includes CubCrafters' LED lighting package with both left and right landing lights. The system provides higher output while drawing lower current and increases reliability. The dual landing light may be set to wig-wag for increased visibility to other aircraft.

Learn More

The New

CC363i

The powerplant for the Carbon Cub FX-3 is the innovative new CC363i. With larger displacement, Precision Airmotive fuel injection, an ingenious cold-air induction system, and Lightspeed dual electronic ignition, the CC363i delivers a vigorous "pull" upon takeoff. In fact, driving its Trailblazer constant –speed prop, the FX-3 generates 20% more thrust than previous Carbon Cubs. An impressive achievement!

CC340P

The Carbon Cub FX-2 is powered by the lightweight and powerful CC340, delivering a power-to-weight ratio of 7.33 lbs/hp! For comparison a Cessna 172S has a power to weight ratio of 15.33 lbs/ hp. Carbon Cub pilots experience a sea level climb rate of 2,100 feet per minute (compared to 650 fpm for a 172) and a deck angle that inspires involuntary expletives from first-timers.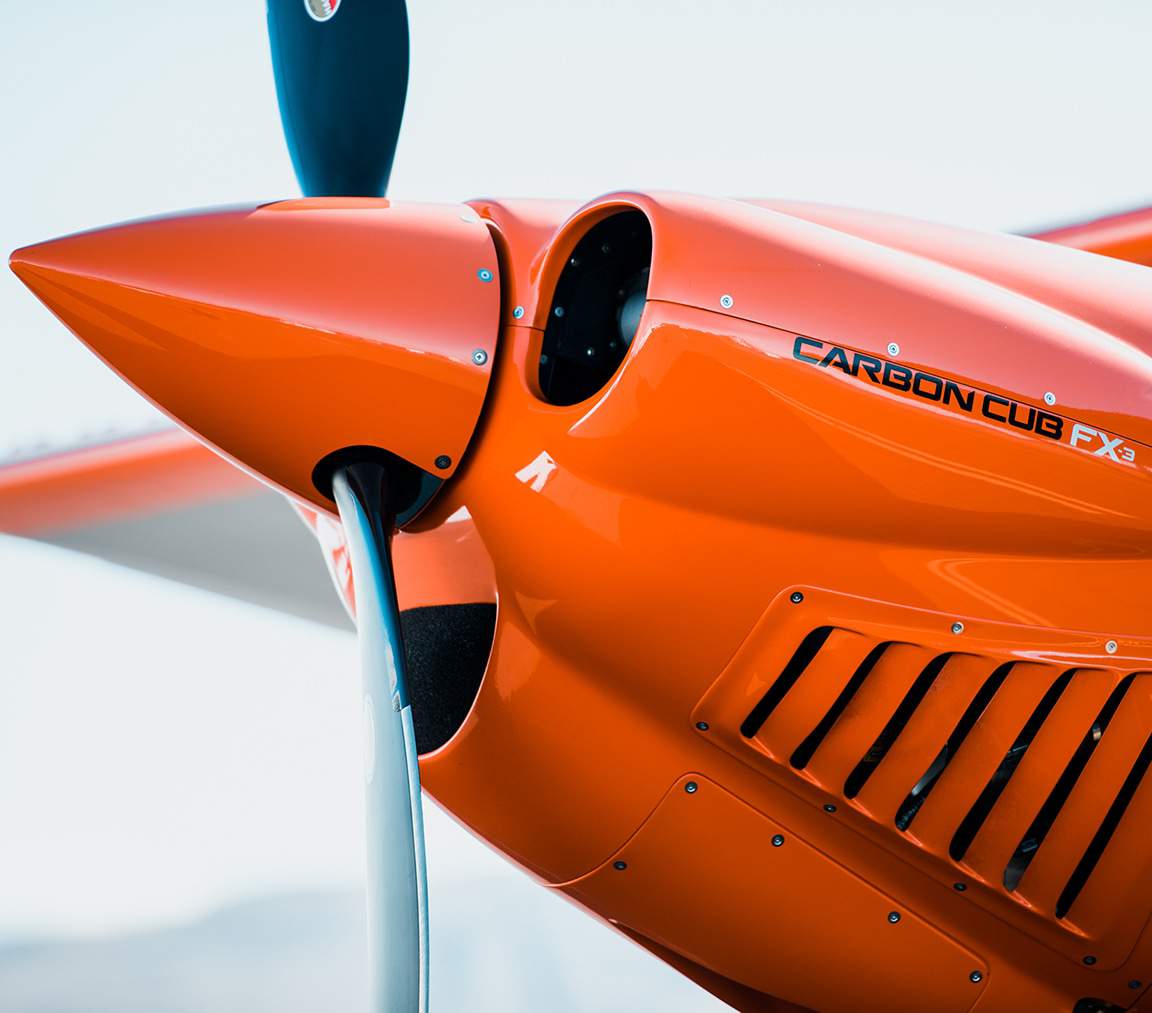 Builder Assist
Our Carbon Cub FX (Factory eXperimental) turns the familiar "builder assist" convention upside down. Instead of assisting your assembly of parts from a kit, CubCrafters' technicians facilitate your fabrication of the parts themselves! Employing our CNC mills, routers and saws, we will guide you through the fabrication process in an astonishingly short time. Then, CubCrafters will use your parts to construct a factory-perfect Carbon Cub, complete with all the options that fit your mission.
No technical experience is necessary. Our factory personnel will guide you through each process to ensure success and an enjoyable build. The Carbon Cub FX Builder Assist allows amateur builders to create their dream under the supervision of our factory technicians, and guarantees delivery of a world-class aircraft.
Experimental-Amateur Built (E-AB) certification of Carbon Cub FX affords operational latitude to the builder/owner which is unavailable for other aircraft certifications, notably: increased payload potential, night and/or IFR operation, builder maintenance and the ability to modify the aircraft.
Specifications
Aircraft

Certification

EAB

Type

Single engine land & sea

Crew

2

Powerplant

Engine

Horsepower

Propeller

Fixed Pitch

/

Constant Speed

Dimensions

Length

23 ft 10 in

Height

8 ft 4 in

Wingspan

34 ft 4 in

Wing Area

174.8 sq ft

Cabin Width

30" @ pilot position

Cabin Height

52" @ pilot position

Cabin Area

26 cu ft

Weights

Empty Weight

Gross Weight

Useful Load
Capacities

Fuel

44 gallons (39 usable)

Performance

Redline Speed

Cruise Speed

Stall Speed

Rate of Climb

Endurance

5.8+ hrs

Range

Takeoff Distance

Landing Distance

140

/

155

ft demonstrated

Maneuvering Speed

Best Rate of Climb

71 mph

Best Angle of Climb

Best Glide Speed

68 mph
Demonstrated performance with 50% fuel and one 190 pound pilot
Extreme Carbon Cub

The Carbon Cub FX is our most capable off-airport machine. Building on the success of the high-strength, lightweight airframe and powerful engine of the Light Sport Carbon Cub SS, the Carbon Cub FX flies faster, flies farther, and hauls more cargo than ever before. Redesigned ailerons, slotted flaps & empennage, along with a Premium Equipment Package specifically suited for off-airport operations, are included with every new Carbon Cub FX. With Its light weight, impressive power, generous payload and capable equipment, the Carbon Cub FX fulfills the most challenging missions.

FX-2

The Carbon Cub FX-2 employs the same CC340 high-compression engine and fixed-pitch Catto prop as those used on the SS, so short-field performance is typical CubCrafters. The airframe structure has been strengthened compared to the Light Sport model to support 1,865 pounds gross weight. Still, the empty weight remains low, so the FX-2 provides a useful load of up to 883 pounds.

FX-3

The Carbon Cub FX-3 features an all-new CC363i fuel injected powerplant that generates remarkable thrust via the ultra-lightweight constant-speed Trailblazer prop. The fuselage and wings, though inspired by those on the FX-2, utilizes additional and sometimes larger structural elements, plus robust landing gear attach points, to achieve 2,000 pounds gross weight limit. Despite its slightly heavier airframe and firewall-forward configuration, the FX-3 delivers a jaw-dropping rate of climb, 135 mph cruise, and an impressive useful load up to 977 pounds.