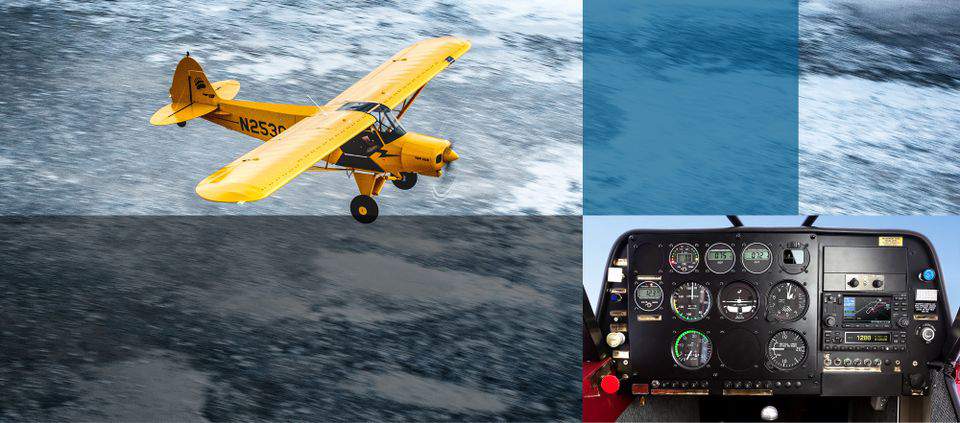 Modern-day Super Cub
The Piper Super Cub has been considered by many to be the ultimate backcountry airplane. It could land and take off where no other airplane dared go. Excellent low-speed manners, reliability and versatility assured its place in the hearts of backcounty pilots.
The Top Cub is all of that, and much, much more.
Design

Most Modern iteration of the Super Cub
Classic Utility
Class Leading Useful Load
Impressive Low-Speed Handling
Built for Rugged Backcountry Operation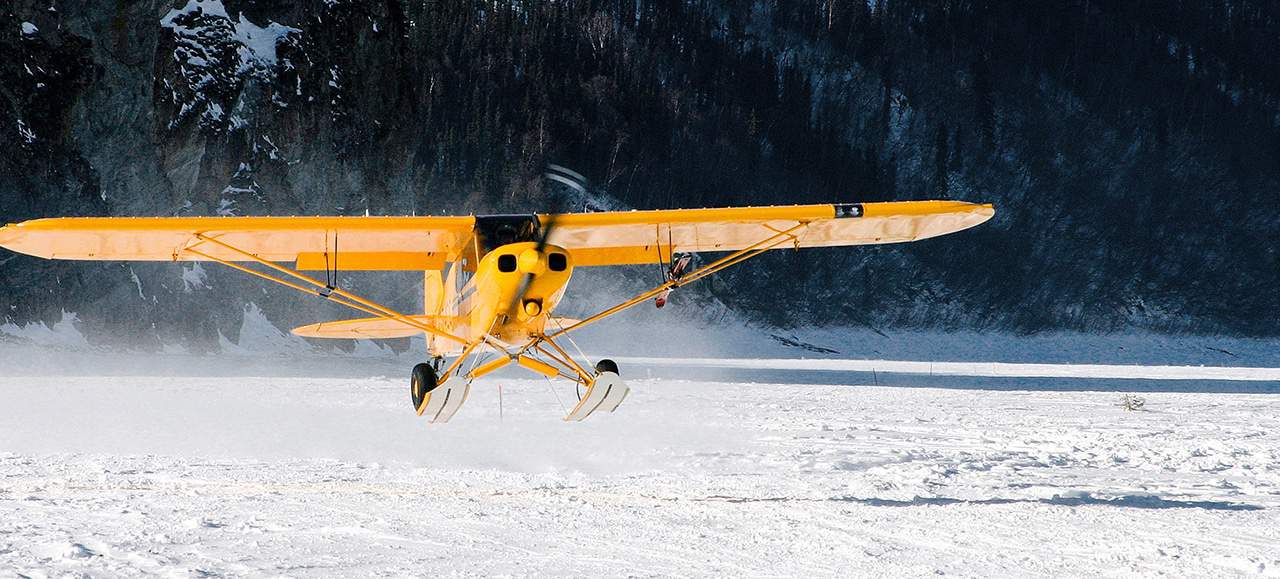 A Better Super Cub
The Top Cub is stronger, safer, and can carry more cargo. It can take off and land in shorter distances, with greater pilot control. It can fly farther, providing greater comfort. It is an airplane that has taken the best from the past and, using the very latest in design, material and manufacturing technology, has established a new standard.
Specifications
Aircraft

Certification

FAA Part 23

Type

Single engine land & sea

Crew

2

Powerplant

Engine

Lycoming O-360-C4P 180HP

Propeller

Sensenich 76-inch metal propeller

Dimensions

Length

23 ft 6 in

Height

8 ft 5 in

Wingspan

35 ft 3 in

Wing Area

178 sq ft

Cabin Width

24" @ pilot position

Cabin Height

52" @ pilot position

Weights

Empty Weight

1,200 lbs

Gross Weight

2,300 lbs

Useful Load

>1,000 lbs
Capacities

Fuel

50 gallons

Oil

8 qts

Performance

Cruise Speed

127 mph

Stall Speed

48 mph

Rate of Climb

up to 800 fpm

Endurance

5 hrs

Range

570 miles

Fuel Consumption

6.8-9.7 gph

Takeoff Distance

270 ft

Landing Distance

400 ft

Speeds

VNE

152 mph never exceed speed - top of yellow on airspeed indicator

VsO

48 mph stall speed with flaps down, slowest stall speed

Vs1

54 mph stall speed with flaps up, clean

VFE

89 mph maximum speed - flaps extended

Vo

102 mph maximum operating maneuvering speed

Vx

60 mph best angle of climb speed

Vy

74 mph best rate of climb speed
*Performance numbers assume optimal conditions, actual numbers will vary. Fuel consumption and speed will vary with power settings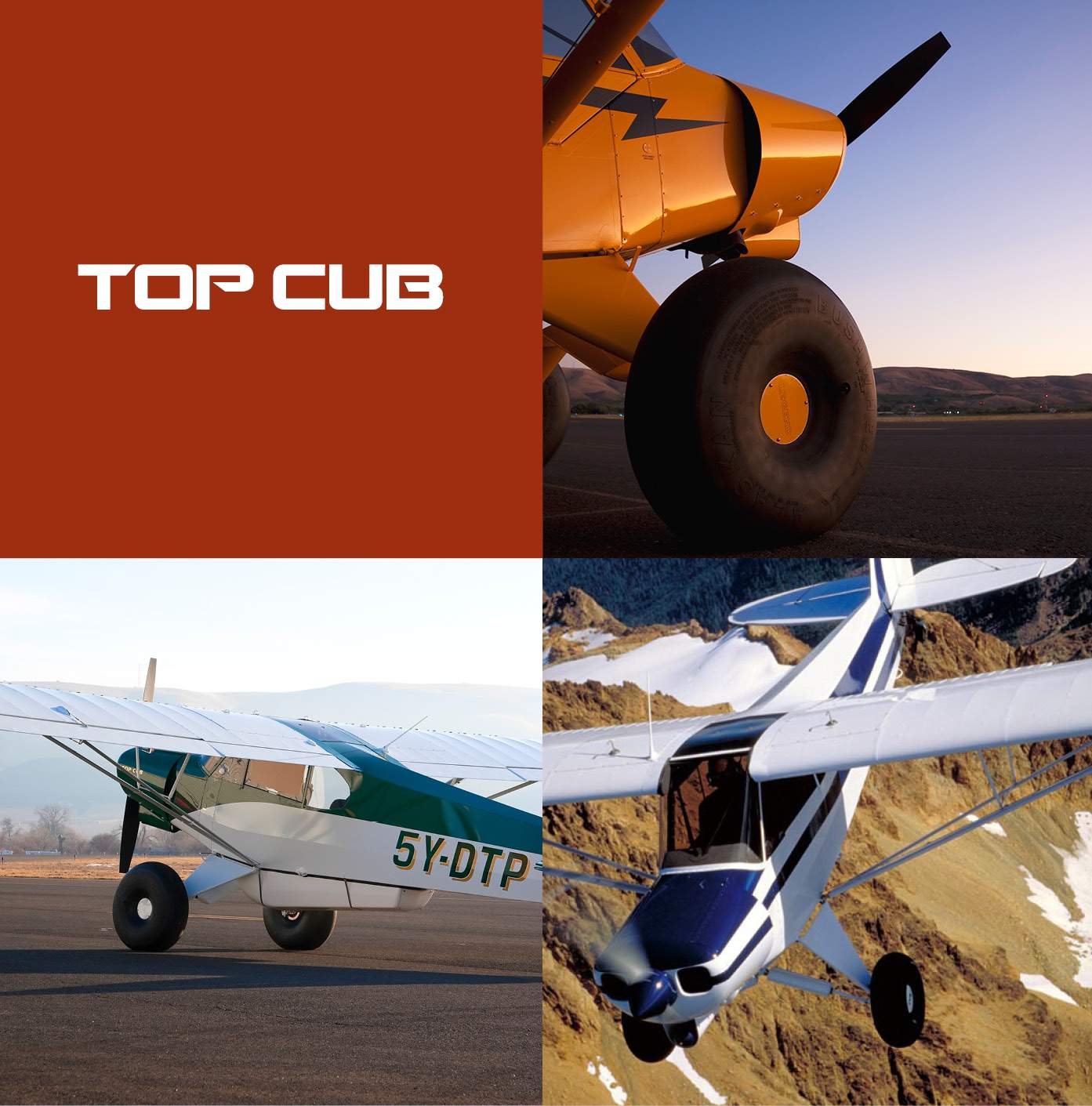 Modern Classic
Certainly Top Cubs appeal to bush pilots, and the airplane can be ordered with optional tundra tires (up to 35"), skis or amphibious floats, along with belly pods to further increase cargo and fuel capacity. In fact, the Top Cub is an ideal choice for any adventure-seeking pilot, as the same capabilities that lend themselves to exploring the Alaskan wilderness make it great for camping, fishing and hunting expeditions and cross-country sight-seeing.
CubCrafters aircraft are sold through Certified Sales Centers. Our factory-selected Cub enthusiasts are ready to help make your buying experience smooth and worry-free.