RED BULL / CUBCRAFTERS
SOPOT 2019
One of the world's best racing pilots, Łukasz Czepiela, landed his plane on the pier in Sopot. This has happened for the first time in history!
All big moments start with little ideas powered by imagination and the desire to create something special.
The real surprise for tourists walking along the beach in Sopot on Wednesday morning was the landing of the plane on the famous pier. As it turned out, it was not a failure or a prank of the uhlan fantasy of the pilot. By landing the machine on an extremely narrow, short and wooden "strip", Łukasz Czepiela inaugurated the season, which for the icon of the Polish coast will start on April 27.
RELATED ARTICLE
4.24.2019 - JUST ANOTHER WEDNESDAY MORNING FOR ŁUKASZ CZEPIELA AND HIS CARBON CUB
Red Bull Air Race pilot, Łukasz Czepiela, landed a CubCrafters Carbon Cub EX-2 on the Sopot Pier in Poland. As you might guess, this was a first....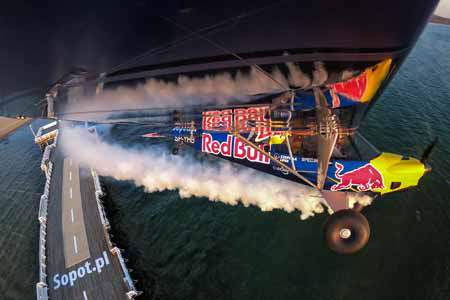 MORE INFORMATION - SOPOT 2019
PIER LANDING IN A



CARBON CUB