Company Reports Better Performance in a New Lightweight Package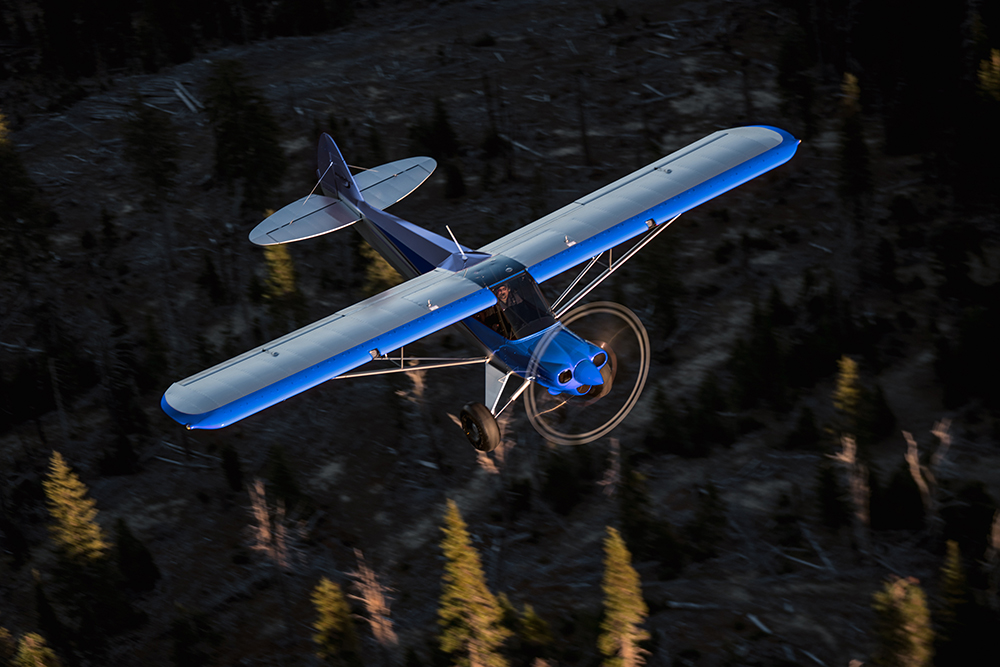 YAKIMA, WA — August 10, 2022 — First introduced in 2009, the original Carbon Cub had a power to weight ratio vastly superior to any previous backcountry airplane in its class. This was in large part due to an innovative new light weight 180 HP engine, the CC340, that was developed at CubCrafters. The power of that engine, in a sub-1000 lb. backcountry airplane, gave pilots the previously unheard-of short takeoff and landing (STOL) performance that changed an industry and made CubCrafters a household name in aviation circles.
For the CC340, CubCrafters started with a standard Lycoming 0-320 engine chassis, but reduced the weight of the engine by more than 50 lbs. while also increasing its output from 150 to 180 horsepower. That new engine proved to be game changing for an entire class of light STOL capable aircraft in the backcountry. It allowed pilots to pioneer new landing areas and go places that were shorter and smaller than ever before. Now copied by many other aircraft OEMs for its outstanding dependability and simplicity, the CC340 has been a proven winner in the market since first introduced by CubCrafters more than a decade ago.
The original CC340 features a fixed pitch propeller, is carbureted, and has a high compression ratio to boost its horsepower. While innovative for its time, CubCrafters recognized there was still room for improvement with the CC340, and is now introducing a new lightweight engine for the Carbon Cub. The new engine is a fixed pitch version of the larger displacement 186 HP fuel injected constant speed prop engine first introduced by CubCrafters in 2017.
Called the CC363i F/P, this new engine offers several advantages over the CC340. It is fuel injected instead of carbureted, which allows for simpler operation overall and eliminates the safety concern of carburetor ice during low power operations. In addition, the fuel injection allows more of the waste heat from the engine to be directed to the aircraft's cabin during cold weather operations.
Another advantage is that the new higher displacement lower compression ratio engine develops almost 5% more horsepower than the CC340, while also being able to use a wider range of fuels. The company expects that the new engine will be better able to tolerate Autogas and the next generation of aviation fuels than similar higher compression ratio engines.
In addition to the typical fixed pitch wood/composite propellers previously offered with the CC340, the new engine can optionally be fitted with newer ground adjustable propellers, such that pilots can quickly optimize the aircraft for climb or cruise missions without having to change to a completely different propeller. When equipped with the same propeller, the installed weight of the new CC363i F/P engine is only 7 lbs. heavier then the CC340.
Developed as part of a long-standing collaboration between CubCrafters and Lycoming, the new CC363i F/P engine is only available from CubCrafters and offered exclusively on the E/A-B Carbon Cub series of aircraft including the EX-2, EX-3, FX-2, and FX-3. The original Light Sport (LSA) Carbon Cub remains powered by the ASTM certified CC340.
"It is exciting to be able to introduce this new engine to our customers," says CubCrafters Vice President of Sales and Marketing, Brad Damm, who flew the first CC363i F/P equipped Carbon Cub from the company's base in Washington State to EAA's AirVenture trade show in Wisconsin several weeks ago. "This is an engine our customers have been specifically asking for, especially our kit aircraft customers. It's simple to operate and has better overall performance than any of the other fixed pitch engines we offer. It's smoother, more fuel efficient, and it cools better. Customers who choose this new engine are going to be pleased for sure."
CubCrafters notes that the new CC363i F/P engine is still in the final phases of flight testing at its headquarters in Yakima. Following the completion of the flight test program, new engines should begin shipping to customers as soon as early October. Existing kit aircraft customers with a CC340 currently on order will be prioritized to upgrade to the new engine if they wish.
ABOUT CUBCRAFTERS
Founded in 1980 by Jim Richmond, CubCrafters' roots are in the 80+ year history of classic grassroots aviation, but the company's products and services are innovative and completely modern. CubCrafters designs and manufactures Experimental, LSA, and Part 23 Certified aircraft. The Carbon Cub family of aircraft redefined expectations for the backcountry flying experience with innovative design, modern materials, powerful engines, and breathtaking performance. The company's flagship XCub aircraft is offered in both nosewheel and tailwheel configurations, and substantially expands the mission profile of sport utility aircraft with higher speed, longer range, and larger payload. The key to our success is our ability to create unique value in the experience of personal adventure aviation.
CubCrafters has been a privately held company for the first 40 years of its existence, but is now planning to welcome new public investment. Learn more at: https://cubcrafters.com/investors
IMPORTANT LEGAL DISCLAIMER REGARDING INVESTMENT
No money or other consideration is being solicited, and if sent in response, will not be accepted. No offer to buy the securities can be accepted and no part of the purchase price can be received until an offering statement filed by the company with the Securities and Exchange Commission (SEC) has been qualified by the SEC. Any such offer may be withdrawn or revoked, without obligation or commitment of any kind, at any time before notice of acceptance given after the date of qualification. An indication of interest involves no obligation or commitment of any kind. The company is "testing the waters" under Regulation A under the Securities Act of 1933. This process allows companies to determine whether there may be interest in an eventual offering of its securities. The company is not under any obligation to make an offering under Regulation A. It may choose to make an offering to some, but not all, of the people who indicate an interest in investing, and that offering might not be made under Regulation A. If the company does go ahead with an offering, it will only be able to make sales after it has filed an offering statement with the SEC and the SEC has "Qualified" the offering statement. The information in that offering statement will be more complete than the information the company is providing now, and could differ in important ways. You must read the documents filed with the SEC before investing. The offering materials may contain forward-looking statements and information relating to, among other things, the company, its business plan and strategy, and its industry. These forward-looking statements are based on the beliefs of, assumptions made by, and information currently available to the company's management. When used in offering materials, the words "estimate," "project," "believe," "anticipate," "intend," "expect," and similar expressions are intended to identify forward-looking statements. These statements reflect management's current views with respect to future events and are subject to risks and uncertainties that could cause the company's actual results to differ materially from those contained in the forward-looking statements. Investors are cautioned not to place undue reliance on these forward-looking statements, which speak only as on the date of which they are made. The company does not undertake any obligation to reverse or update these forward-looking statements to reflect events or circumstances after such date or to reflect the occurrence of unanticipated events.