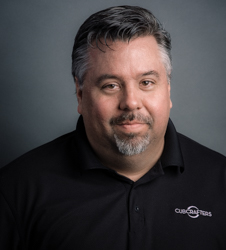 CubCrafters announced a change in senior leadership today as it continues to advance the company's plan for long-term growth. Patrick Horgan, CubCrafters' executive in charge of operations and product development, has been named President. Horgan has recently focused on increasing the company's manufacturing capability and productivity; this promotion reflects Horgan's record of successes at the company.
"Pat's engineering and product development team successfully earned Part 23 certification for our flagship XCub in 2016, quickly followed by the breakthrough certification of experimental Garmin G3X glass panel avionics," said CubCrafters founder and CEO, Jim Richmond. "He has also been instrumental in expanding the capabilities of our popular Builder Assist program to help meet demand for our exciting new Carbon Cub FX-3 aircraft. Pat's combination of leadership, operational management, and product design expertise is rare in our industry."
Horgan brings 30 years of professional aviation experience to this appointment, serving previously as WACO Classic Aircraft Company's General Manager. "I am grateful to be a part of such a wonderful organization of incredibly talented people; we are blessed to have the opportunity to design, certify, and build the finest backcountry aircraft in the world" said Horgan. "We look forward to both continued innovation and additional production expansion as we scale CubCrafters for future growth."
Along with Horgan's appointment, Brad Damm has been promoted to Vice President of Sales and Marketing. Damm joined the CubCrafters sales team in 2013 and was promoted to Director of Sales in 2015. Under his direction, CubCrafters has seen record sales across all product lines. "Our leadership team recognizes that success has come from listening to our customers and building the airplanes that they want to fly," Damm comments. "Despite a two-year order backlog, we still see a lot of opportunity for growth. When pilots want to put adventure back into their aviation, we'll be there to meet that need."
Jim Richmond follows up; "I've never been more excited about the strength of our senior leadership, or our future as a company, than I am today. Over the next few years, we're poised to take CubCrafters to the next level in this industry. It will be exciting to watch it happen."
CubCrafters' previous President, Randy Lervold, began serving as General Manager in 2009, becoming president in 2015. He and Jim Richmond shared a vision to build more than just great backcountry aircraft. The real goal was to transform Jim's Yakima startup into a leading manufacturer of General Aviation aircraft. Together, Lervold and Richmond developed a brand that is recognized worldwide and represents best-in-class STOL performance.
Lervold is continuing on to a new opportunity in General Aviation. "CubCrafters has become a significant player in the industry," he said. "CubCrafters is now respected and admired for what it does, and how it goes about doing it. I have thoroughly enjoyed being a part of the company's development and growth, and I see great opportunity for the company on the horizon. Pat, Brad, and the crew have my confidence; CubCrafters will no doubt enjoy a blue sky future."