Manufacturing Technician
Position Summary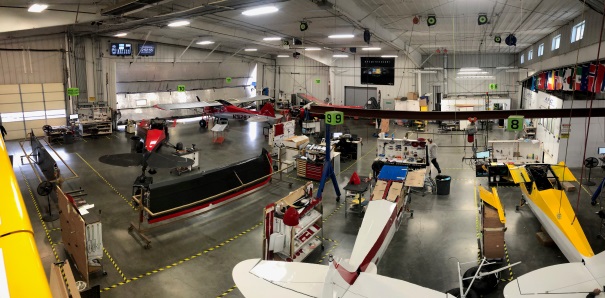 For the last four decades CubCrafters has manufactured or rebuilt a fleet of over a thousand best-of-class STOL aircraft, and we're continuing to grow! We are seeking talented mechanically-inclined professionals that would like to join an industry-leading manufacturing team. If you value safety, fine workmanship, teamwork, and a commitment to excellence as your core professional values, Click here we want to talk to you.
CubCrafters, the worldwide industry leader in the design and manufacture of light STOL capable general aviation aircraft, is at the leading edge of innovation in this class of aircraft. Passion for aviation is at the core of our business and fuels our commitment to produce the highest quality STOL aircraft for our customers. We leverage decades of experience to handcraft individualized solutions on a lean optimized "mass-customization" production line. It's a method that consistently delivers choice and value while providing the highest level of customer safety and satisfaction.
Responsibilities
A Manufacturing Technician is a full-time position that reports directly to a department Manufacturing Lead. We're looking for a responsible, motivated, and talented individual that can contribute to an aviation manufacturing line, with specific responsibilities as follows:
• Learn and master Cubcrafters internal manufacturing procedures and processes for STOL aircraft production.
• Deliver high-quality work by engaging in careful workmanship on a daily basis.
• Deliver on-time work in a high-paced manufacturing environment.
• Exhibit a strong work ethic and positive attitude as part of a team of like-minded individuals
• Successfully meet organizational expectations in a FAA quality controlled production facility.
Success Indicators
• Exhibits careful workmanship while following internal processes and procedures.
• Delivers on-time work in high-paced manufacturing environment.
• Conducts self in a respectful and productive manner, contributing to a positive team dynamic.
Qualifications
• Strong mechanical skills with 2+ years of mechanically related professional experience preferred.
• Demonstrable understanding of basic manufacturing processes and lean manufacturing.
• Strong technical, analytical, problem and organizational skills with high attention to detail.
• Ability to work independently in a dynamic work environment.
• Good communication skills, both written and verbal.
• Ability to follow requirements of FAA mandated quality control processes and procedures.
Compensation
An industry competitive package is being offered for top notch individuals at all experience levels that meet the minimum job qualifications. Starting pay depends on relevant experience and competencies.
BENEFITS:
• One week of paid vacation after year one and two weeks of paid vacation per year afterwards;
• Six paid holidays annually;
• Paid sick leave policy.
• Employee-discretionary tax-free savings in the form of a 401K plan with Cub Crafters matching contributions up to 4% after 6 months of employment;
• Major medical plan for you (the employee) provided, with separate vision, dental, life, and LTD coverage for you and all coverage for family members available at your
expense, at a group rate. Health care plan is available the first of the month after 30 days of continuous employment;
• Pilot development program and flight opportunities, including subsidized aircraft rental.
How to Apply
HOW TO APPLY: Applications can be downloaded at www.cubcrafters.com. Please send application and resume to jill.hargraves@cubcrafters.com
Download/Print Application
Download