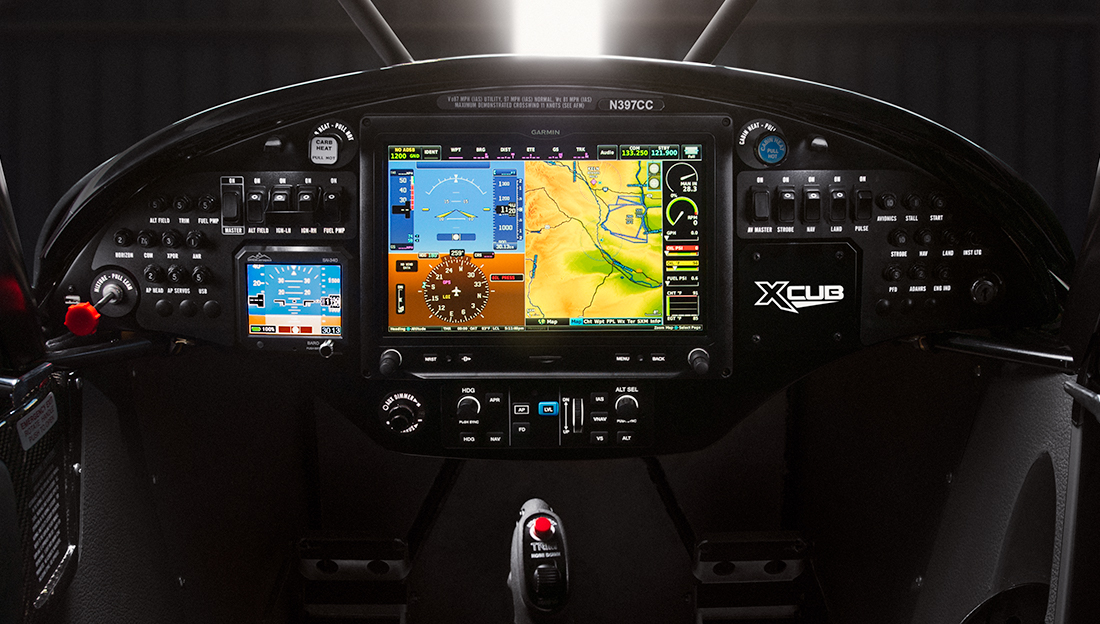 Oshkosh, Wisconsin – July 24, 2017: Light aircraft manufacturer, CubCrafters, is pleased to announce FAA approval of a non-TSO'd, fully-integrated EFIS avionics suite as primary instrumentation for the company's Part 23 Certified XCub. CubCrafters received the approval by amendment to the XCub Type Certificate. The amendment allows installation of the Garmin G3X Touch system, as well as Garmin's digital autopilot.
"The introduction of the XCub in June of last year served as a catalyst for this certification effort," says Randy Lervold, President of CubCrafters. "At the time, we recognized that the FAA's revised "risk based" certification philosophy was forthcoming, so we chose to initially offer an analog day/night VFR panel on the new model. Longer-term, we were determined to offer the same functionality, safety and value as we do in our Carbon Cub family of aircraft. Garmin's G3X Touch 10-inch flight display is an overwhelming favorite of Carbon Cub buyers, and it is a perfect match for the XCub as well. Now, only a year after the XCub launch, we have added the G3X suite to our Type Certificate, and more importantly, as an Option on the Order Form for 2018 deliveries. We believe the added capabilities and value offered by this new panel are game-changing."
Certification plans for CubCrafters' new panel concept were submitted through the FAA's Aircraft Certification Office (ACO) in Seattle. "We were pleased that the ACO was receptive to our comprehensive, risk-based certification plans, and coordinated effectively with the Small Aircraft Directorate," says Patrick Horgan, the company's Director of Engineering & Product Development. "After successfully earning the new XCub aircraft TC, FAA certification and standards officials were familiar with our engineering resources, and supported this barrier-breaking program. Design, validation, and testing proceeded expeditiously, which is a testament to the strong CubCrafters' team, and to the FAA's commitment to implement enhanced safety technologies."
Prior to this announcement, other companies have received approvals of non-certified products, originally intended for the experimental and LSA markets, for retrofit on Part 23 light aircraft. However, this is the first time any OEM has received such an approval for the complete primary flight instrumentation suite on a Part 23 Certified aircraft panel.
"Our new instrument panel delivers much higher performance than anything near this price point", comments Jim Richmond, CubCrafters' Founder and CEO. "We've heard from customers who own high-end aircraft with sophisticated certified glass cockpits. They tell us they prefer flying with the G3X system in their Carbon Cubs!"
"The implications for our market are clear and significant", Richmond continues. "The FAA's new risk-based certification philosophy will allow buyers of new certified airplanes to enjoy high-performance panel choices at prices that were unthinkable before today."
CubCrafters' new glass panel includes the Garmin G3X Touch flight display, GTR 200R comm radio and GTX 335R transponder. The GTX 335 includes an integrated WAAS/GPS position source enabling ADS-B "Out" functionality, thus fulfilling NextGen requirements for ADS-B compliance in 2020. Garmin's dual-axis autopilot, including the GMC 307 control head, is available as an option. The new panel is also "float-ready", and accepts the control head for Wipaire's 2100 amphibious floats.
For an introductory period, the new panel will also include the Sandia SAI 340 Quattro multi-function indicator at no additional charge. The self-powered four-in-one backup instrument provides precision Airspeed, Attitude, Altitude, and Slip indications in an easy to read EFIS presentation.
CubCrafters, along with officials from the FAA, will host a press presentation about this announcement at 10:00 A.M. on Monday, July 24 at the EAA Press Center during the upcoming AirVenture 2017. Members of the media are invited to attend.
The new panel will be available on CubCrafters' 2018 XCub models scheduled for delivery in January. For more information, contact CubCrafters or your local Certified Sales Center.
ABOUT CUBCRAFTERS-
CubCrafters, founded in 1980 by current owner and CEO, Jim Richmond, is located at McAllister Field Airport (YKM) in Yakima, WA. CubCrafters' roots are in the 70-year history of classic taildragger aviation, but its products and services are innovative and completely modern. CubCrafters designs and manufactures Part 23 Certified, LSA and Experimental aircraft. The company's newest introduction, XCub, substantially expands the mission profile of sport utility aircraft with its higher speed, longer range and larger payload. The Top Cub, with a useful load of over 1,000 lbs., is the most up-to-date iteration of the historic Super Cub available. The Carbon Cub has redefined expectations of "backcountry aircraft" with its light weight, powerful engine, and breathtaking performance. Three variants are offered: the original, Carbon Cub SS, is a production LSA. Carbon Cub EX-2 is the most complete aircraft kit available, and Carbon Cub FX is a clever E-AB "builder assist" program. CubCrafters also offers outside engineering, consulting, and certification services.