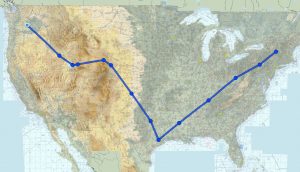 I completed my initial training at CubCrafters and it included almost 30 hours in various airplanes and TacAero School too. It was total immersion and now I was about to fly my longest cross-country ever.
I have owned my J3 since 2000 and I learned to fly in the airplane years before as a kid. I spent a lot of time flying with my Dad but never have I crossed the country or the Rocky Mountains. The mission is to follow my fellow coworker and generally great guy Max to Houston, TX where he will deliver another NEW Carbon Cub FX to its new owner. We have a flight plan prepared and Max has the Rocky Mountain plan charted perfectly having done it many times before.
I'm always humbled in aviation as I meet people some 20 years younger who have way more knowledge than I do. That's one of the interesting challenges I love. Age in this game means relatively little. Time in rank is the Golden Snitch. Max and I flew together to Houston, but from there to Saratoga, NY was done solo..
The first 3 days with Max leading the way we had great weather and good winds traveling from Yakima, Southeast and in a little VFR on top through Eastern Oregon, to Idaho and Utah into Western Wyoming by the end of day 1.  The scenery was incredible and the tail winds helped us see 170+mph ground speeds at one point. That's cookin' for a Cub other than XCub.
Day 2 we traversed Wyoming over I 80 and down through Colorado, Kansas and into Oklahoma. It is pretty cool to think some of that remote area where I80 runs were actually designed with Big Jets in mind. You could land a 777 down there man no problem.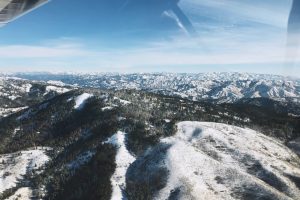 Day 3 put us through heavy Dallas airspace in route to Houston. I will be the first to admit I was challenged and not as polished but it was good and helped me for the rest of the trip on up to NY. Part of the plan was to deliver the new airplane and learn the delivery process Wednesday AM, and then I would head Northeast. By 10:15am Wednesday I was airborne headed for Monroe, LA (by myself no Max). I was scouting weather and winds ahead with my iPhone and continuing to use Satellite Weather on the Garmin G3x Touch Screen.
This being Day 4, I was well on my way and who knew there would be so many fires burning. Yes, obstructed visibility of a different kind. So I parallel the course and land in Monroe for fuel. Incidentally, some of these FBOs are absolute palaces. Most treat even a Cub pilot like a rock star. I make my way to Smyrna, TN with 2500' overcast and some wind but nothing crazy. Still making 125 mph GS. Upon landing I find out that the airport was to close in 10 minutes for overnight construction, and NO that was not on the ATIS to my surprise. It ended well.
Day 5 was a bit rough. Low visibility, 5-6 miles and 1800' overcast most of the way with strong headwinds and GS only at 80mph or so. More stressful and tiresome but the learning curve continued. I made it from Smyrna to Parkersburgh, WV but it was not an easy leg nor did I make good time. In fact I stopped once in Ashville, WV because my skill/experience level did not match what I was seeing outside at 1500'. I landed on a 7000' runway in 150' feet with a 12-knot headwind and took another day to taxi to the ramp (or so it seemed). The locals were having a good time with their Christmas party for the Flying Club and they all came running when the Big Wheels came rolling in. I gave it an hour, topped the fuel and conditions improved to 2000' and 6 miles. After the warm hospitality, a sandwich and some careful thought, I was ready again. With 7000' feet available, I taxied to the intersection midfield and did the run up. Set to go I make the call and then a Medivac Chopper arrives and I wait till he is down. This time I am off the ground in what seems like 100' and it might have been close because the Chopper pilot sounds off with "Wow! That's impressive"! I end Day 5 safely and a little smarter than the day before.
After a good night's sleep, Day 6 will be the last day. Ceilings are 2800' with 8 miles visibility and winds are modest at 320 but not favorable. I make it from WV up to Williamsport, PA for a fuel stop. I am now in Snow Country again as I pass over Penn State and Lock Haven, PA where it all began over 70 years ago. The Poconos are off to the East and pushing up through the layer. It's a cool look. After fueling I know I am close just an hour and a half or so and I will have completed one of the greatest journeys in my life.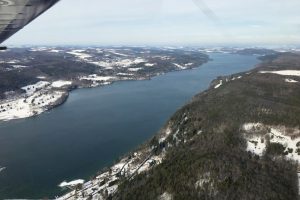 As I roll up I88, I am texting my friend Glen in Cooperstown and he urges me to get off the beaten trail and do a flyby. I'm in my own stomping grounds now so no need for flight following or even the GPS. On my request, NY Center says "squawk VFR, Frequency Change approved and Merry Christmas". That was nice! They surely did not know I was trying to be home for Christmas but then again I had been on flight following for 3 days (a must I think in big terminal air space but smart too). I swing by Cooperstown and Otsego Lake  and then head Northeast to my Summer haunt Great Sacandaga Lake  and do a low approach over my Mom's house. Now she knows I am home safe too. If the text did not get to her the 180hp over the roof did. A quick circle and 15 minutes later I arrive at 5B2 Saratoga County Airport, N18FX's new home for the time being.
For me it was the Adventure of a lifetime, 3100+ miles in 6 days all in an effort learn more about my new career and also be home for Christmas. I am no pro pilot, far from that, the G3X and autopilot added a huge margin of safety and flexibility that help ease the learning curve. Most important for me was breaking out of a career of 25 years to follow my passion, meeting new friends and coworkers and having what I feel is a 2nd chance at life. That's Cool!
By: Mark Keneston | mark.keneston@cubcrafters.com