Fiberglass Technician – Multiple Positions
Position Summary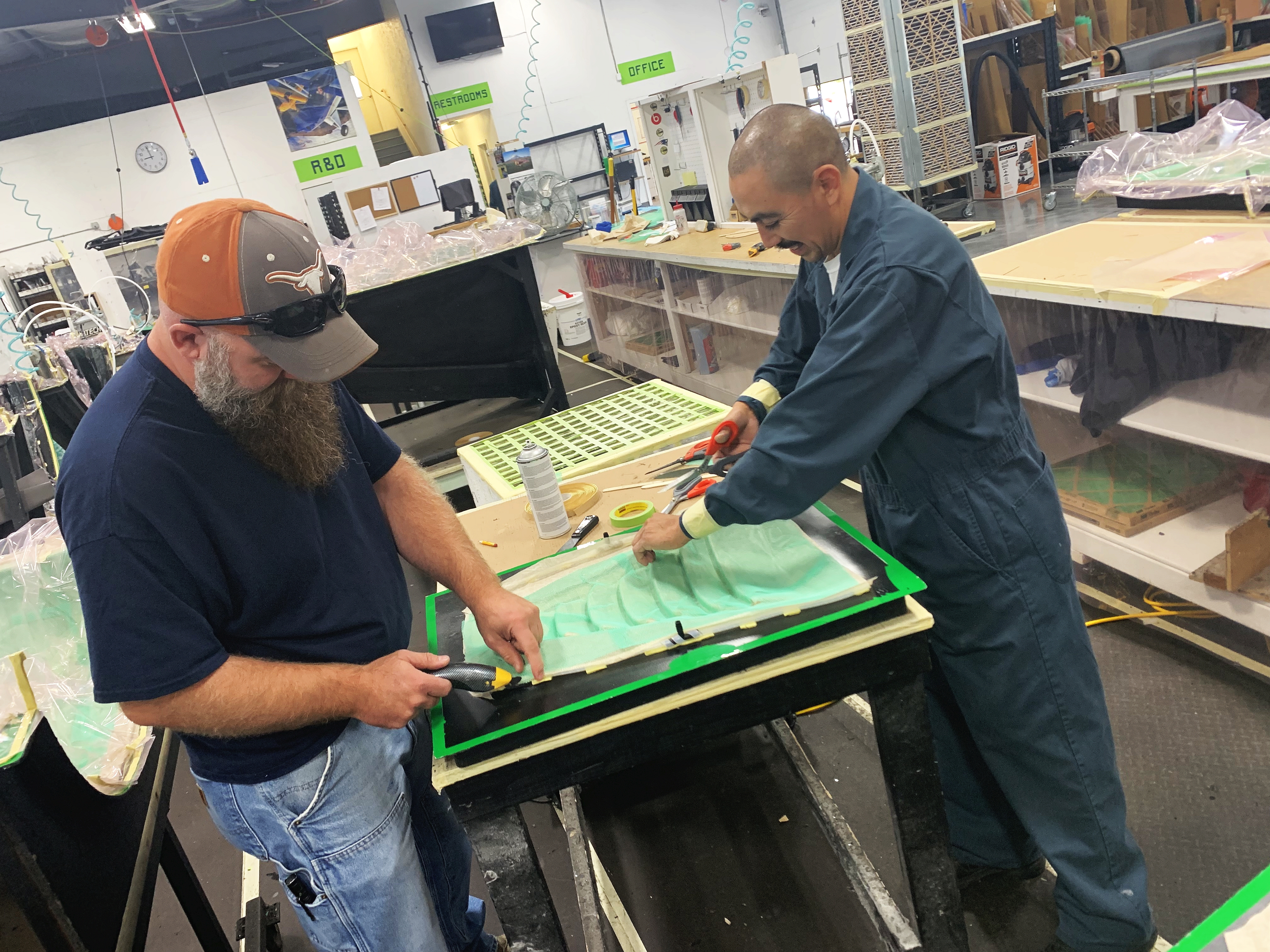 CubCrafters, the worldwide leader in the design and manufacturing of Light-Sport Aircraft is growing and has opened several new fiberglass technician positions in our composite shop. Our fiberglass department is responsible for cutting, laying up, and grinding carbon fiber components used on our aircraft. Here is your opportunity to join a team that produces high-quality aircraft parts that are seen worldwide.
Click here to read more about the Fiberglass Technician position and apply today!
Responsibilities
Our composite shop team combines years of experience working with a variety of materials to include fiberglass, carbon fiber, and kevlar. Each part produced in our facility is handcrafted from start to finish. Every employee plays a key role in producing quality parts that meet our high standards.
The fiberglass technician position is a full-time position that reports to the Composite Shop Supervisor. We're looking for responsible, motivated, and organized individuals to help meet our production goals. If you have experience working with composite materials or want to learn the trade, we encourage you to apply.
Some of the specific responsibilities are as follows:
• Inspect, clean, and assemble molds
• Trim parts using a variety of air tools to include grinders, cut off wheels, etc.
• Repair defective fiberglass parts to make sure they meet print
• Accurately measure catalyst and resin to ensure proper mixture
• Ensure all parts produced are within the procedures and guidelines specified in our quality management system
• Other duties and projects as assigned
Success Indicators
The successful candidate should have the ability to demonstrate and/or possess skills in the following areas: Self-motivated; precision workmanship; ability to adapt to change; ability to stand for long periods of time; be organized; poses time management skills; demonstrate accuracy and thoroughness; have the ability to use hand tools; is a problem-solver; has the ability to work with minimal supervision in a team environment; demonstrate the proper use of vacuum infusion and gelcoat; is a strong team player.
Qualifications
• Ability to lift and carry up to 50 pounds
• Proficiency in the English Language (both written and verbal)
Compensation
An industry-competitive package is being offered for top-notch individuals at all experience levels that meet the minimum job qualifications. Starting pay depends on relevant experience and competencies.
We also offer:
• Paid holidays (6 per year), paid vacation time (2 weeks), paid sick leave (1:40 ratio)
• Paid medical plan for the employee, group rate options for dependents, dental & vision options
• 401k retirement savings program including matching of up to 4% of non-benefit compensation
• Skills development, career development, continuing education, and mentorship opportunities
• Pilot development program and flight opportunities, including subsidized aircraft rental
How to Apply
This job is located at the CubCrafters factory located on McAllister Field (KYKM) in Yakima, in Washington State. With its beautiful weather, central location, relatively low cost of living, abundant outdoor activities, and a strong sense of community, Yakima is a premier place to raise a family, live, work, and play.
To apply, please call us or email your resume or application to:
Download/Print Application
Download